ALL GUN
Call Of Duty Ghosts



Assault Rifles
AK-12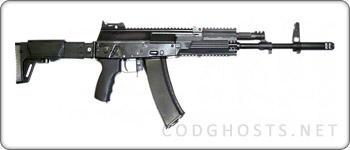 The gas operated, selective fire AK-12 is to replace the Kalashnikov AK-74M and AK-100-series rifles. It features improve ergonomics and tactical flexibility compared to its predecessors - it also has high reliability and simplicity like the AK-47.
Confirmation:
ARX160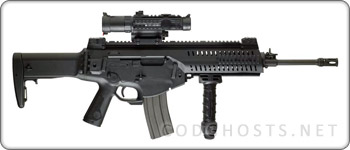 The ARX160, which is part of the Future Soldier program, is composed of two receivers and operates through a short-stroke piston system. The weapons barrel can be removed and replaced in seconds without tools.
Confirmation:
FAD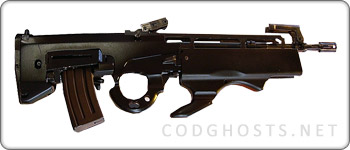 The FAD (Fusil Automatico Doble) bullpup assault rifle uses the NATO 5.56x45mm cartridge, has low recoil and high precision with adequate range.
Confirmation:
HONEY BADGER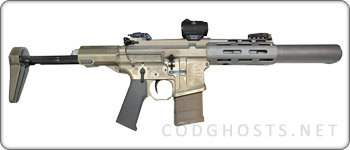 The HONEY BADGER is an AR-15 based assault rifle that uses the 300 AAC Blackout (7.62x35mm) cartridge and has an integral suppressor. The weapon is supposed to replace the HK MP5 and MP7 for use in close quarters combat and other places when suppression is needed.
Confirmation: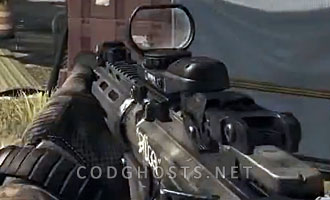 MSBS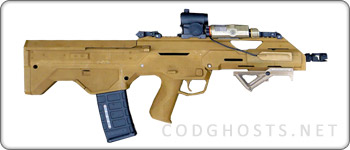 The MSBS bullpup assault rifle is operated by a short-stroke adjustable piston system with a rotating bolt - like most modern assault rifles. It's chambered for standard 5.56x45mm NATO ammunition.
Confirmation:
R5RGP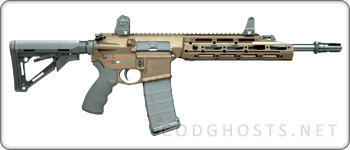 The R5RGP features robust mid-length gas piston operation and a monolithic upper with free-floating handguard. It's the next great leap in the evolution of the modern combat rifle and designed from the ground up to provide rugged and accurate service.
Confirmation: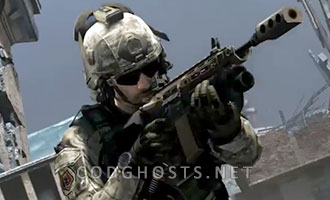 SA-805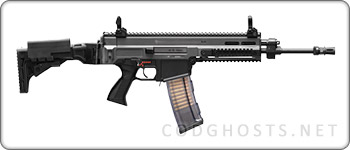 The SA-805 is a gas-operated modular assault rifle that uses both the 5.56x45mm NATO and 7.62x39mm cartridge. It also features quick-change barrels to change calibers and barrel lengths according to the mission profile.
Confirmation:
SC-2010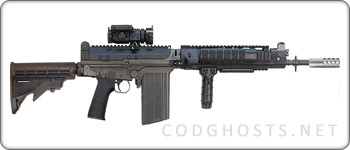 The SC-2010 hi-power modular weapon system uses the 7.62x51 mm NATO cartridge, picatinny rail Stanag 2324 system and has a special muzzle brake to support the 7.62mm cartridge.
Confirmation:
Sub Machine Guns
BIZON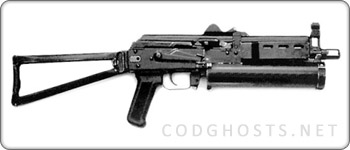 The BIZON is a lightweight, selective fire 9mm sub machine gun developed in the early 1990s. It has a very short recoil stroke, which gives the weapon a high accuracy and rate of fire. The cylinder below the barrel is a helical-feed magazine, which is often mistaken for a grenade launcher.
Confirmation:
CBJ-MS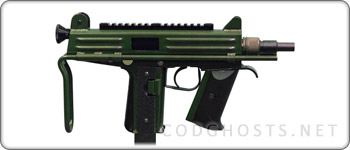 The CBJ-MS fires the 6.5x25mm CBJ cartridge that is able to defeat current and future body armors - it's also effective against lightly armored vehicles due to its high impact velocity.
Confirmation:
K7
The K7 has a built-in silencer and fires the subsonic 9mm cartridge with a simple blow-back system. The silencer is able to suppress the weapons muzzle flash, which makes it harder to be detected - even at night.
Confirmation:
MTAR-X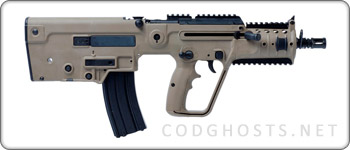 The MTAR-X is a modern bullpup sub machine gun chambered for the 9mm round - it's an extremely compact weapon specifically designed for Special Forces units.
Confirmation:
VECTOR CRB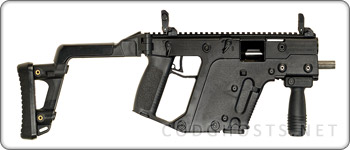 The VECTOR CRB sub machine gun uses the KRISS Super V System to reduce recoil and muzzle climb. It's able to shoot over 1200 .45 ACP rounds per minute.
Confirmation:
VBR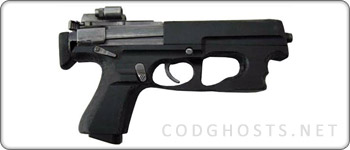 The VBR is a multicaliber (9mm/7.92mm) personal defense weapon that utilizes the Glock 17 configuration grip frame and magazines. It also uses the Beretta M92F's double action firing mechanism.
Confirmation:
VEPR
The VEPR is a gas operated, selective fire bullpup "assault rifle", but is classed as a sub machine gun by the Ukrainian Government. Due to its design, it's unofficially considered to be a smaller AK-74 with bullpup design.
Confirmation:
Light Machine Guns
AMELI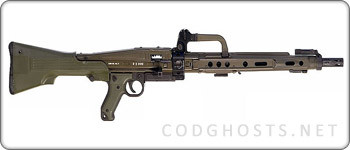 The AMELI is a 5.56mm light machine gun that's fed from an open-link disintegrating M27 ammunition belt. It uses a quick-change type air-cooled barrel with a slotted flash suppressor.
Confirmation:
CHAIN SAW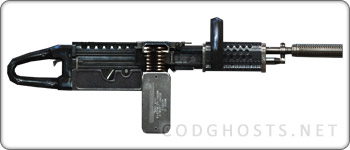 The CHAIN SAW is a prototype light machine gun that's designed to be fired from the hip. It utilizes the typical gas operated, rotating bolt action and is chambered for the 5.56x45mm NATO cartridge.
Confirmation:
LSAT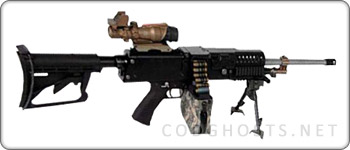 The LSAT is an extremely light and reliable LMG due to its simpler and more consistent weapon action. Its low recoil and stiffer barrel also offers high accuracy. The LSAT uses the 5.56x45mm NATO cartridge.
Confirmation:
M27 IAR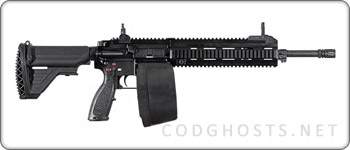 The M27 IAR is a lightweight, box or drum magazine-fed weapon that's based on the HK416. It features a gas-operated short-stroke piston action with a rotating bolt and uses the 5.56x45mm NATO cartridge.
Confirmation: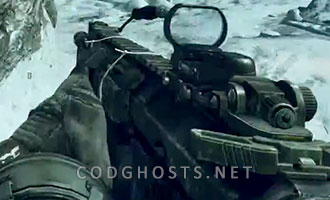 Marksman Rifles
IA-2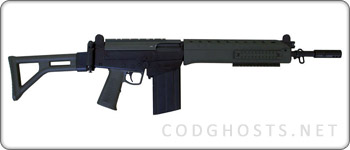 The IA-2 is a self-loading, selective fire rifle based on the FN FAL, but uses polymer parts and a rotating bolt instead of a tilting bolt.
Confirmation:
MK14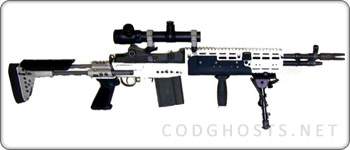 The MK14 is a selective fire, military designated marksman rifle, chambered for the 7.62x51mm NATO cartridge. It has a modified M14 iron sight, but it's normally used with a magnifying scope.
Confirmation:
MR-28
The MR-28 is a military version of the MR308 semi-automatic rifle and uses the 7.62x51 NATO caliber. It has a factory warranted accuracy of 45mm dispersion at 100 meters, providing a maximum effective range and a high first round hit probability up to 600 meters.
Confirmation:
SVU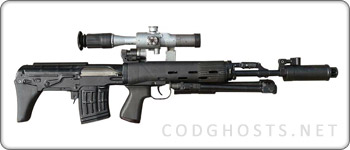 The SVU is a bullpup configuration of the SVD sniper rifle, but has several improvements. The rifles special muzzle brake can absorb up to 40% of the recoil energy, has a better butt stock, trigger, pistol grip, and mounting for the sight.
Confirmation:
Sniper Rifles
L115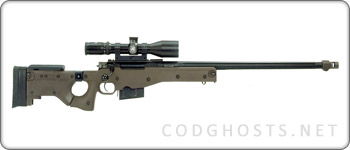 The L115 is a bolt-action sniper rifle designed for the magnum rifle cartridge. Compared to most .50 caliber rifles, the L115 offers considerably less rifle weight, muzzle flash, recoil and smoke.
Confirmation:
LYNX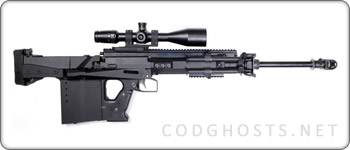 The LYNX is a bullpup design, self-loading, anti-material rifle designed to destroy unarmored and lightly armored targets - its significant destructive force is combined with a great accuracy.
Confirmation: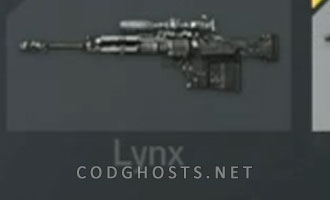 USR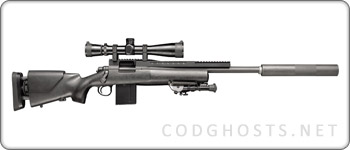 The USR is a bolt-action rifle that can be fitted with tactical components such as a detachable box magazine, muzzle break, adjustable stock, variable power optics, MARS rail, suppressor and bipod.
Confirmation:
VKS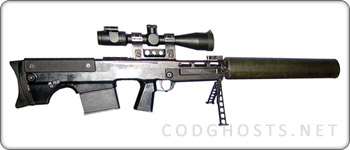 The VKS is a straight-pull bolt-action, magazine-fed bullpup sniper rifle that's chambered for the 12.7x54mm subsonic round. The weapon has an integral suppressor since it's intended for special operations that require silent firing.
Confirmation:
Shotguns
FP6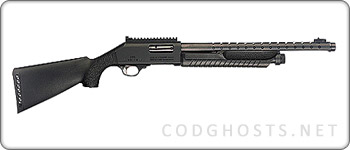 The FP6 is a 12 gauge pump-action combat shotgun intended for civilian and law enforcement use. Compared to other shotguns, the FP6's FABARM choke system improves shot patterns and distribution significantly.
Confirmation:
MAUL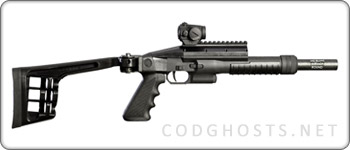 The MAUL (Multishot Accessory Underbarrel Launcher) is a lightweight semi-automatic shotgun that can be used standalone or as an underslung module of a combat rifle.
Confirmation:
MTS255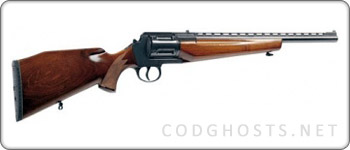 The MTS255 is a shotgun fed by a 5-round internal revolving cylinder and is available in multiple gauges. The cartridge cylinder swings out to the left for loading and unloading.
Confirmation:
Handguns
.44 MAGNUM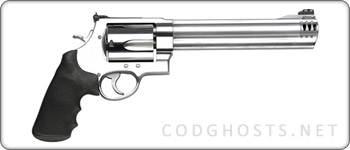 The .44 MAGNUM is a single-action revolver with a six round cylinder. The weapons heavy-duty construction and weight absorbs recoil, thus making it "relatively easy" to shoot.
Confirmation:
M9A1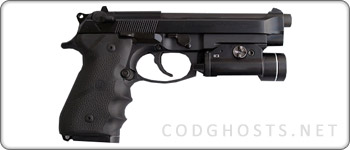 The M9A1 is an updated version of the semi-automatic 9mm Beretta M9. It has a more aggressive front and backstrap checkering - it's also easier to reload thanks to the beveled magazine.
Confirmation:
MP-443 GRACH
The MP-443 GRACH is a double-action, short-recoil, semi-automatic military-issue sidearm of Russian origin. It's chambered for the high-powered 9x19mm 7N21 cartridge.
Confirmation:
P226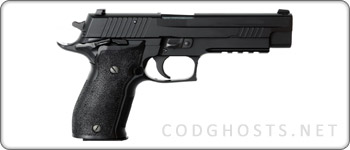 The P226 is a semi-automatic pistol based on the SIG P220, but uses higher capacity, staggered-column magazines. It's chambered for the 9×19mm Parabellum, .45 ACP, .30 Luger and .22 LR.
Confirmation:
Launchers
PANZERFAUST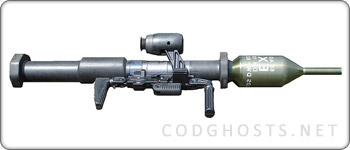 The PANZERFAUST is a modern disposable recoilless anti-tank weapon. It can be fired from enclosed spaces since it does not have a significant backblast.
Confirmation:
KASTET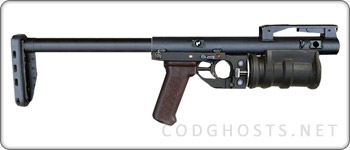 The KASTET is a standalone, rapid firing multi-shot launcher mostly used for riot control. The grenade launcher has a telescopic stock.
Confirmation:
MK32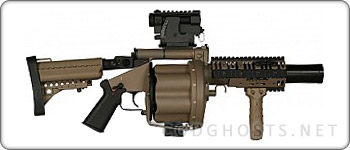 The MK32 is a lightweight 40mm six-shot revolver-type grenade launcher intended to significantly increase a small squad's firepower. It's designed to be simple, rugged, and reliable.
Confirmation:
Riot Shield
Main
Site
Weapons
Primary
Information
Multiplayer
COD: Ghosts
Release Date:
5th of November, 2013
Main platforms:
Xbox 360 / One, PlayStation 3 / 4, Wii U and PC. Multiplayer is available on Xbox LIVE (Xbox 360 / One), PSN (PS3 / PS4) and Steam. Xbox LIVE requires Gold Membership.
المصدر
Call of Duty: Ghosts - Weapons List | Guns